Bosnia and Herzegovina: A Tourist's Dream Come True
Welcome to Bosnia and Herzegovina, a country that is rich in history, culture, and natural beauty. Whether you are looking for an adventure or just want to relax and unwind, this beautiful land has something for everyone. Here is your ultimate guide to everything you need to know about traveling to Bosnia and Herzegovina as a tourist.
Travel Overview
The best time to visit Bosnia and Herzegovina is from May to September when the weather is warm and pleasant. The country has two international airports – Sarajevo International Airport (SJJ) and Mostar International Airport (OMO), which offer direct flights to major European cities like London, Paris, Frankfurt, Munich, Amsterdam, etc. You can also enter the country by road via neighboring countries such as Croatia, Serbia, Montenegro, Albania, Macedonia, etc. Visitors require a valid passport and visa to enter Bosnia and Herzegovina.
Tourist Attractions
Bosnia and Herzegovina offers a wide range of attractions that will leave you spellbound. From stunning natural wonders to historical sites, there is plenty to see and do here. Some of the top tourist attractions include:
Kravica Waterfalls – Located near the town of Ljubuski, these waterfalls are one of the most picturesque sights in all of Bosnia and Herzegovina. They cascade down over 20 meters into a green pool below.
Old Bridge Area of Mostar – This UNESCO World Heritage Site is famous for its historic bridge that spans across the Neretva River. It was rebuilt after being destroyed during the war and now attracts visitors from around the world.
Medjugorje – This small village located in the southwestern part of Bosnia and Herzegovina is known for its religious significance. Thousands of pilgrims flock here every year to witness alleged apparitions of the Virgin Mary.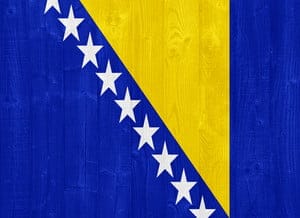 Jajce Waterfall – Situated on the Vrbas river, Jajce Waterfall is another breathtaking sight in Bosnia and Herzgovina. The water falls from a height of 25 meters into a deep pool below.
Restaurants and Dining Experience
Bosnian cuisine is a blend of Mediterranean, Turkish, and Balkan flavors with influences from other cultures as well. There are many restaurants throughout the country where you can enjoy traditional dishes such as cevapi (small grilled sausage links), baklava (honey pastry), dolma (stuffed grape leaves), and more. Some popular restaurant chains in Bosnia and Herzegovina include "Zlatna Ribica" ("Golden Fish"), "Dveri" ("Doors"), and "Meshi Dolac". Restaurant prices vary depending on location, but generally, meals cost between $10-$20 per person.
Hotel Accommodations
There are numerous hotels available in Bosnia and Herzegovina ranging from budget to luxury options. Some popular hotel brands include "Holiday Inn", "Radisson Blu", and "Hyatt Regency". Hotel rates depend on factors such as location, amenities, and seasonality. Expect to pay anywhere from $80-$300 per night for a standard room.
Cost of Living
Bosnia and Herzegovina is relatively affordable compared to Western Europe. However, costs may vary depending on where you are staying and what activities you plan to participate in. Generally, expect to spend around $40-$60 per day on food, transportation, and entertainment. Entrance fees to museums, galleries, and other tourist attractions usually cost between $2-$10 per person. Public transportation such as buses and trains are reasonably priced, with tickets starting at around $1.